How to Measure A Lampshade
Whether you are ordering a replacement lampshade or designing a custom lampshade, knowing the dimensions or measurements of the lampshade you need is critical to identifying the correct lampshade for your lamp.
Lampshade Measuring Basics
Lampshade measurements require between 4-6 measurements depending on the lampshade shape (see example below):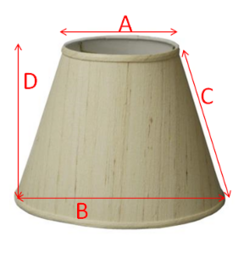 Lampshade Measurement Tip
For each measurement, you take, make sure you are measuring rim-to-rim or point-to-point.  For the width across the top and bottom of the lampshade, your ruler or measuring tape should pass through the center of the lampshade to ensure the maximum measurement is taken.