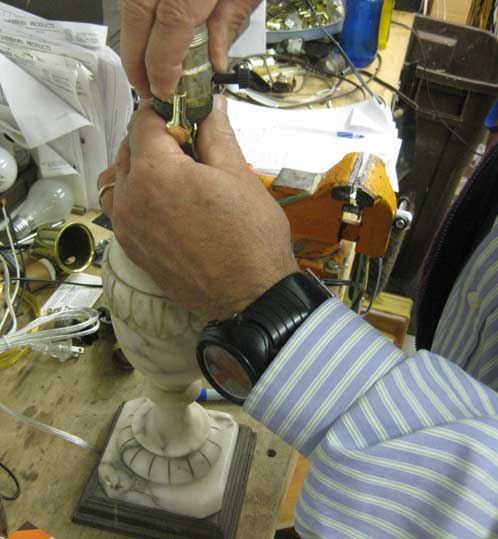 We repair all types of portable lamps as well as all ceiling and wall fixtures.
We have a well-established reputation for high-quality lamp repair and restoration services.  We use UL certified parts in our lamp repairs and restoration. All of our work is done on the premises and typical turn around time is one week or less.  In addition, we do lamps and other lighting fixtures power conversions so they work with US 120V power.
We offer FREE Lamp Repair Quote.
We repair all types of lamps and lighting fixtures:
Chandeliers
Ceiling Fixtures
Wall fixtures
Table lamps
Floor lamps
Antique table and floor lamps
Electrified oil lamps
Lampshades
What we can fix:  we rewire, rebuild, replace parts and can convert lamps and other lighting fixtures manufactured outside of the U.S. to make them compatible with standard U.S. outlets and electrical requirements.
In addition to the work, we perform to repair or restore lamps and lighting fixtures, we specialize in the replacement and repair of lampshades.  We have an extensive inventory of lampshades. More than half of the lamps that we repair are also in need of a new / replacement lampshades.   Our staff is trained to help "re-shade" a lamp.
One unique outgrowth of our service department is our ability to convert many interesting objects into lamps – from interesting "finds" to antiques and heirlooms. See more about our custom lamp design services