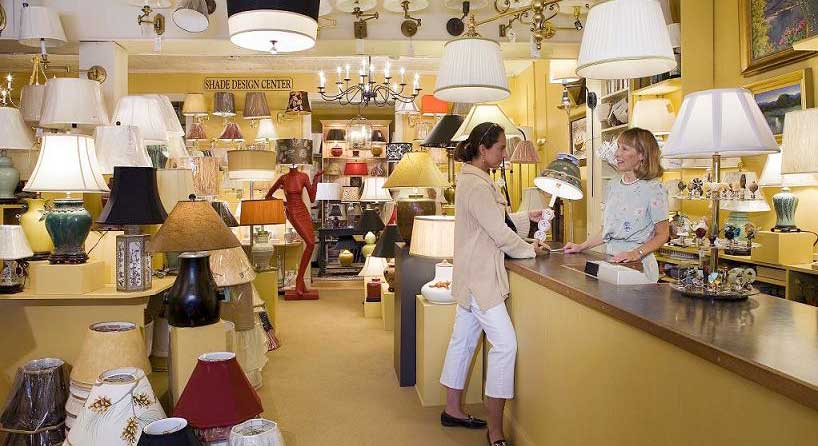 Established in 1976, Concord Lamp & Shade has been providing New England with traditional and custom lighting and lampshades for over 30 years. With an inventory of over 2,000 lampshades in our store and access to hundreds of styles, fabrics and trims through our vendor's catalogs, our trained professionals can help you find or design the lampshade of your choice. Additional services include handcrafted lampshades made from our fabrics, the customer's own fabrics or nautical and aeronautical charts. We also offer shade recovering and relining.
Drawing from resources around the world, Concord Lamp & Shade offers a wide selection of custom designed table lamps made exclusively in our workshop in Concord, MA. Our design experts can work with you to create a unique lamp from pottery, family treasures or other objects you bring to the store. We also represent the leading lighting manufacturers in the U.S. including Chapman Lighting, Visual Comfort, Wildwood & Frederick Cooper, Hubbardton Forge, Currey and Company, House of Troy, Simon Pearce, Northeast Lantern, Murray Feiss, Justice Design, and others.
Another important part of our business is our lamp repair and restoration services. We routinely repair and rewire table and floor lamps, chandeliers and wall sconces.
Responsive customer service is our first priority. We will work with you individually to define and source the perfect interior lighting to complement your decor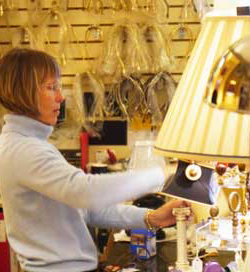 Prior to acquiring Concord Lamp and Shade, Ann Eckert enjoyed a successful career running sales and marketing divisions for Fortune 500 companies. Looking to combine her business acumen and love of interior design into a business of her own, Ann has dedicated her considerable energies into expanding the product offering while building on the shop's solid reputation for quality, creativity and innovation.