Canterbury Roseart
For over 25 years Canterbury/Roseart Lampshades has been one of the leading lampshade manufacturers in the country, known for its dedication to quality work and innovative styles.  Their extensive product line provides every option when determining the size, shape, color, pleat, trim, finish, or fitting of a lampshade.  They specialize in custom lampshades that are produced in any size or shape, by their own company frame department.  Canterbury Roseart can recover and reline any old lampshade styles, and they work with C.O.M. (customer's own material) fabrications.
---

Diane Studios
Diane Studios – one of the original, premier lampshade manufacturers in the U.S., has recently merged with Canterbury- Roseart.  Canterbury-Roseart manufacturers the traditional Diane Studios Lampshades, while MJL Lampshades continues to produce the custom line of Diane Studios Lampshades.
---

J. Harris & Sons Lampshades
Family owned and operated since 1972, J. Harris & Sons lampshades offers one of the most extensive lines of lampshades in the country.  All of their lampshades are "Made in the USA" in their facility in Pittsburg, PA.  With their own wire manufacturing, and hundreds of fabrics and trims, the J. Harris catalog offers more than 9 million lampshade options.
---

Lake Shore Studios – Mississippi
Lake Shore Studios' 40,000 sq ft facility is located in beautiful, historic Meridian, Mississippi. Since 1979, Lake Shore Studios has created thousands of beautiful and affordable hardback lampshades for corporate and residential use.  Their line of products incorporates the most up-to-date styles in fabrics and patterns, but they also create customized shades.
---
Lake Shore Studios – Michigan
Lake Shore Studios believes that great lampshades make a room, and they also understand that each room has its own personality – that's why they offer a vast line of lampshade styles from traditional to contemporary. They offer a large selection of the finest materials and colors and also welcome custom requests. Their customers own material (C.O.M.) program also allows you to send your own fabric. Manufactured in St Joseph MI by people who take pride in their work, every detail counts.
---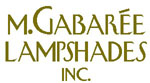 M. Gabaree Lampshades
Michelle, founder of M Gabaree Lampshades, spent her younger years working for her father in the family business, the well-known custom lampshade house, Blanche P. Fields.  Since the business was sold, Michelle has continued the family tradition on her own, designing and producing custom, hand-made lampshades to enhance every lamp and every decor in which her shades reside.  Michelle now works with Concord Lamp & Shade to produce lampshades for our ever-growing lamp and lampshade customer base.
---
New Brunswick Lampshades
New Brunswick Lampshades, founded in 1943, and has been owned and managed by the same family for three generations. All of their lampshades are manufactured in their facility in New Brunswick, NJ using a combination of quality craftsmanship and cutting edge computer aided manufacturing systems.  The ownership of New Brunswick believes that a high quality lampshade is the most cost effective way to enhance the value of a lamp.
Learn more ➜