Frederick Cooper lamps stand for high quality and unique styles.  From the intricate designs on the hand-painted porcelain bases to the animal figurine bases including elephants, monkeys, and frogs, Frederick Cooper used only the finest materials in his lamp and lighting designs including the iconic lampshades.  The lampshade selections - fabrics, colors, and trims - always provided a perfect complement to the lamp base.  However, while the lamps will live for decades, the original lampshades wear out over time and need to be repaired or replaced.
Frederick Cooper Lampshade Repair Before Picture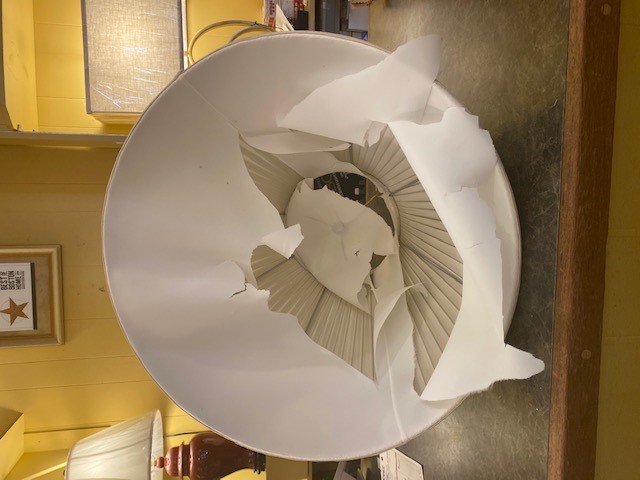 Frederick Cooper Lampshade Repair After Pictures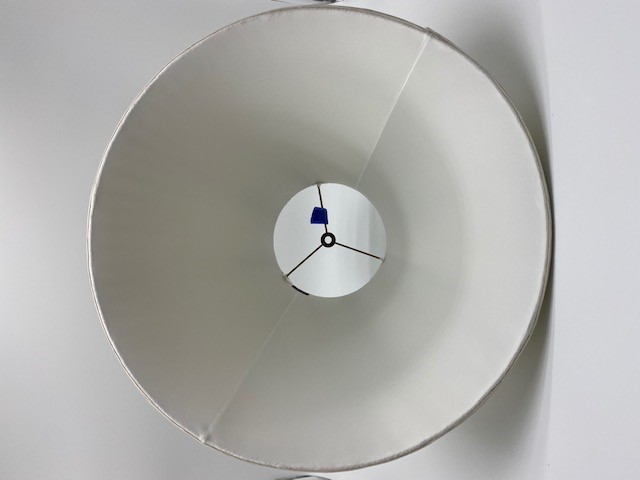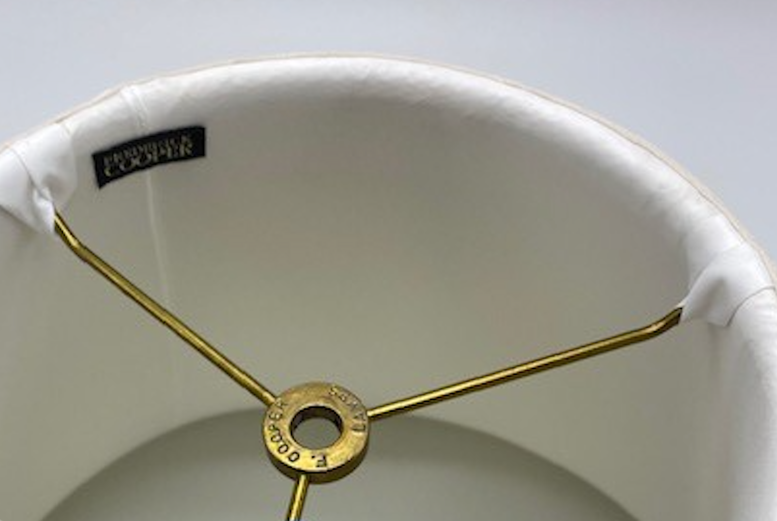 Concord Lamp & Shade has been relining, recovering, and replacing original Frederick Cooper lampshades for over 40 years.  Our skill, experience, and attention to detail ensure that the repairs to your Frederick Cooper lampshade will meet the high standards set by Frederick Cooper itself including the original Frederick Cooper label. Regardless of the style, we can help you restore your Frederick Cooper lampshade to its original glory.
Relined or Recovered Frederick Cooper Lampshade
If the lining is in tatters, but the outer fabric is strong and not stained, relining is the preferred option.  
If both the inner lining as well as the outer fabric is compromised, the best option is to recover the original lampshade frame.  We have a wide selection of silk fabrics from which to choose, as well as decorative trims.
Get a Free Frederick Cooper Lampshade Repair Quote
Frederick Cooper Lampshade Replacement
We also service customers who are looking to change the look and feel of their Frederick Cooper lamps with a new lampshade style or fabric.  Once again, we have a wide array of choices – shapes and styles, as well as fabrics and trims.  We will work with you to design the lampshade of your choosing.
Get a Free Frederick Cooper Lampshade Repair Quote
About Concord Lamp & Shade
For over 40 years Concord Lamp & Shade has been delivering high-quality, custom-designed lampshades as a leading US lampshade manufacturer and retailer.  Our skill and expertise allow us to replace lampshades of any size and repair highly detailed and customized antique and period pieces. 
We can help you determine your options and provide our recommendations.
To Get Started
To get started, please fill out the form below so we can give you the options and prices to be considered as well as our recommended path. Or, you can always call us directly (978)369-3000.
Frederick Cooper Lampshade Quote
Not Sure How To Get Started?
We get it, most people don't think about lampshades as much as we do.  Give us a call to discuss your situation (978)369-3000 and we can help solve your lampshade issue.