High quality, reputable lamp repair services are becoming increasingly difficult to find.  Concord Lamp & Shade has been repairing lamps for 45 years and counting.  Whether table or floor lamp, wall sconce or chandelier, our skilled and trained service department is ready to take on your project.
Only certified parts used in our lamp repairs and restorations; 

All of our work is done on the premises; 

Standard turn-around time is typically one week or less;  

European conversions to US 120V on all types of lighting fixtures
Whether your socket has burned out,
Or your socket has fallen apart, or are missing,
Or you are missing the plug
Or your puppy, kitten or rabbit has found a new toy,
Or, you found an old treasure
Or your electrician won't install the fixture until it has been re-wired,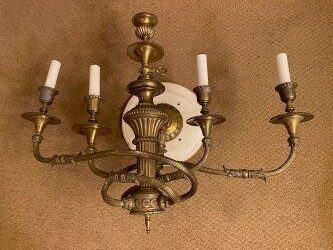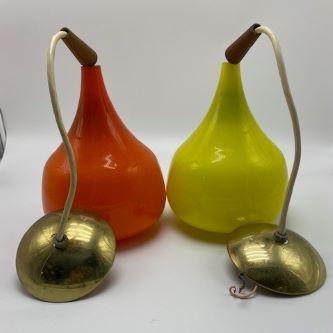 We are ready to bring your lamp / fixture back to "light".
We repair all types of lamps and lighting fixtures:
Chandeliers

Ceiling Fixtures

Wall fixtures

Table lamps

Floor lamps

Antique table and floor lamps

Electrified oil lamps
Standard light bulbs and sockets (E26) exist in both single and double (aka the "three-way socket /bulb) contacts.  While historically it was rare that there was a problem with using a single wattage bulb in a three-way socket, we have seen an increasing number of instances where a lamp has sparked – or worst case caught on fire – when a single wattage bulb has been used in a three-way socket.  The spark, or the fire, happens when the second, vertical contact in the socket lands on the side of the single wattage bulb, instead of staying beneath the bulb.  When the lamp is turned on, the contact between the vertical contact and the side of the bulb will cause a dead short.  Hopefully, the dead short will cause the circuit breaker to shut down.  If the circuit breaker is either slow to react, or doesn't react, the result can be a fire.  At the very least, a dead short will make the socket inoperable.  We don't see the possibility for a dead short in a three-way socket when a three-way bulb is used, because the bottom the three-way bulb is "flatter" making it nearly impossible for the vertical contact post to inch up along the side of the bulb.

Simple solution:  always use a three-way bulb in a three-way socket.

   
In addition to our lamp repair services, we specialize in the replacement and repair of lampshades.  We have an extensive inventory of lampshades in stock and ready to fit to your lamp(s). More than half of the lamps that we repair are also in need of a new / replacement lampshades.  There is no better way to dress up a lamp – and a room – than with a new, fresh lampshade, specially selected to enhance the design of your lamp.   Our staff is trained to help "re-shade" a lamp.

One unique outgrowth of our service department is our ability to convert many interesting objects into lamps – from interesting "finds" to antiques and heirlooms. See more about our 

custom lamp design services
Learn more ➜