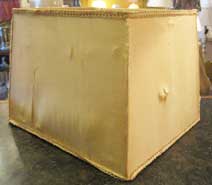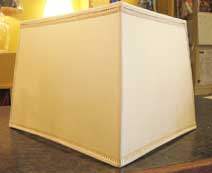 Any lampshade can be re-made or duplicated – hardback or silk, simple or the most ornate, with fabrics you choose from our wide selection or from your own fabric. However, given that it is a process that requires time and labor, it can be expensive.
We always suggest, and will help you determine, whether the lampshade frame that needs restoration is offered by one of our highly regarded lampshade manufacturers – it often is. When that happens, it is generally much less expensive to buy a new lampshade, specifying your fabric and trims.  Get a free lampshade repair quote and recommendations.
When the lampshade frame is not available, then we turn to the relining or the recovering alternatives for silk shades and re-making the shade if it is a hardback lampshade.
If the outside fabric of your silk lampshade is intact and not stained or damaged, but the inside lining is tearing due to heat buildup or an accident, the lampshade can often be re-lined. This process requires removing both the inside lining and the outside fabric from the frame, applying a new lining, and then rebuilding the lampshade.
If the outside fabric of your silk lampshade is damaged, the lampshade can be recovered, replacing both the outside fabric and the inside lining. The first step of this process is to evaluate the frame and rehab it if necessary. If the frame is damaged, a new one may be necessary and we have the ability to manufacture a new frame to match your original frame. After the frame is refinished, it will be covered in a fabric and trim of your choice, either from our wide selection of fabrics and trims or fabric and trim supplied by you. With few exceptions, hardback shades cannot be repaired and must be replaced. We have the ability to re-make any shape and size hardback lampshade with a fabric of your choice.
For estimates on the cost of our lampshade services, we suggest that you send a picture of your lampshade, including the measurements (top diameter, bottom diameter, and side length – both slant height and vertical height), to support@concordlampandshade.com  and we will respond quickly with a price quote and timing.
One unique outgrowth of our service department is our ability to convert many interesting objects into lamps – from interesting "finds" to antiques and heirlooms. See more about our custom lamp design services