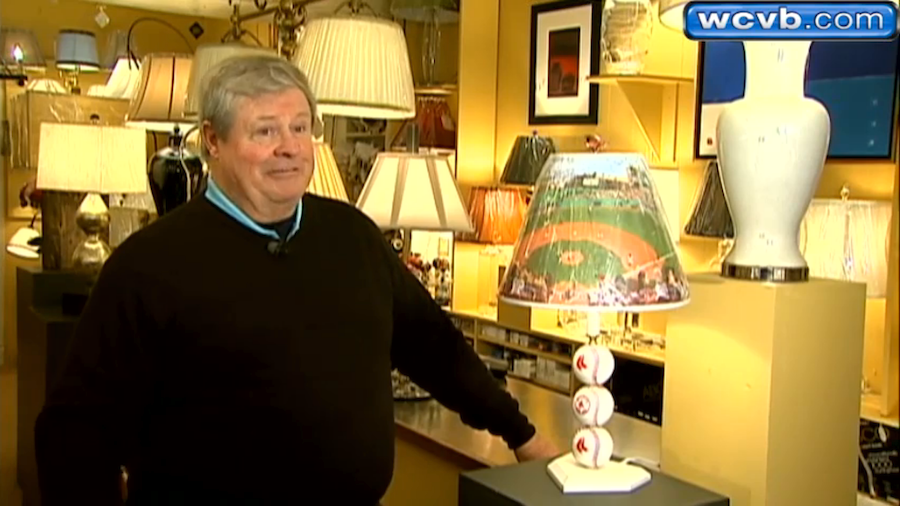 Concord has been the home of Concord Lamp & Shade since 1976 and we were thrilled to be included in Chronicle's segment profiling the people and places in our beautiful and historic town. Chronicle first contacted us with an interest in our Boston Red Sox Lamp because it is a lamp that we designed and we make here in our store.
The highlight of the lamp is the lampshade, painted by Jack Skinner, an inspector with the Concord Police Department and one of the top criminal sketch artists in the state. Jack (featured above) was able to join us for the show and shared his story – described as a labor of love – of painting the shade. After the segment aired, we saw hundreds of people visiting our website to order their own Boston Red Sox Lamp.  And, we have received many inquiries on the availability of the New England Patriots lamp – expected to be in stock by later this year.  When we have more information, we'll be sure to share.
Congratulations to the other Concord groups and companies featured in the segment including the Concord-Carlisle Regional High School, Barrett and Company Real Estate, Nashoba Brook Bakery, Concord Bookshop, Louisa May Alcott's Orchard House, Main Streets Café, and Trails End Café. The segment was a hit!!